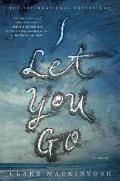 Author: Clare Mackintosh
Series: None
Publication Date: May 3, 2016
Publisher: Berkley/NAL
Pages: 384
Obtained: publisher via NetGalley
Genre: Psychological Thriller
Rating: 4.75/5
Bottom Line: Worthy of the hype


G

rab,

J

ust get it at the library, or

R

emove from your TBR list? Grab!
Summary:
On a rainy afternoon, a mother's life is shattered as her son slips from her grip and runs into the street . . . I Let You Go follows Jenna Gray as she moves to a ramshackle cottage on the remote Welsh coast, trying to escape the memory of the car accident that plays again and again in her mind and desperate to heal from the loss of her child and the rest of her painful past. At the same time, the novel tracks the pair of Bristol police investigators trying to get to the bottom of this hit-and-run. As they chase down one hopeless lead after another, they find themselves as drawn to each other as they are to the frustrating, twist-filled case before them. ~amazon.com
Review:
I Let You Go
is a novel that starts slowly but builds to the twist that literally turns the whole novel and the meaning of the title on a dime. Jenna is someone your heart immediately goes out to. She's lost everything that was precious to her in one quick second and leaves that life behind. She ends up in a small town on the coast where she hopes to fade into anonymity but quickly realizes in a a small town that its hard to do. She has to make a living so she uses the beach as creative influence. Of course, just when her life seems to be getting back into a groove, it is all thrown off kilter again.
We are also put into the lives of the detectives involved in the case, Ray and Kate. They will go to great lengths to work the case even when they've been told to shut it down. Kate has such a passion for finding out what happened to Jacob, that she's willing to work on it off the clock. There's a bit of subplot of tension between Ray and Kate and it's the only party of the book that I didn't really feel was necessary. It didn't add anything to the overall story for me.
I swear I didn't think that another book would live up to the hype of a "twist that changes everything" but this one really did. I kept trying to guess what it could be and failed miserably. I'm glad I did because it really changes the feel of the whole book for me. The story took on a different tone and a different direction. For me, it became creepier and darker but that made it that much more interesting.
If you are a fan of psychological thrillers, then I have to say you should definitely read this one and the author Clare Mackintosh will definitely go on my "to be read" author list.

Google+