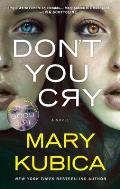 Author: Mary Kubica
Series: None
Publication Date: May 17, 2016
Publisher: Harlequin Mira
Pages: 320
Obtained: Edelweiss via publisher
Genre: Psychological Thriller, Suspense
Rating: 4.75/5.0
Bottom Line: A slow build until the very end


G

rab,

J

ust get it at the library, or

R

emove from your TBR list? Grab!
Summary:
In downtown Chicago, a young woman named Esther Vaughan disappears from her apartment without a trace. A haunting letter addressed to My Dearest is found among her possessions, leaving her friend and roommate Quinn Collins to wonder where Esther is and whether or not she's the person Quinn thought she knew. Meanwhile, in a small Michigan harbor town an hour outside Chicago, a mysterious woman appears in the quiet coffee shop where eighteen-year-old Alex Gallo works as a dishwasher. He is immediately drawn to her charm and beauty, but what starts as an innocent crush quickly spirals into something far more dark and sinister than he ever expected. As Quinn searches for answers about Esther, and Alex is drawn further under the stranger's spell, master of suspense Mary Kubica takes readers on a taut and twisted thrill ride that builds to a stunning conclusion and shows that no matter how fast and far we run, the past always catches up with us in the end. ~amazon.com
Review:
Don't You Cry
is a suspense/psychological thriller where the author builds and builds the two story lines until they both collide and explode. I don't mind a slow build up as long as the pay-off in the end is good and this end is worth that wait.
We start off the novel with Quinn waking up on a typical Sunday with a hangover and waiting for her roommate, Esther to return from church with her usual coffee and bagel but Esther doesn't return and as Quinn starts looking around her room, she starts to notice things that are out of place. She's not quite sure if she should panic yet or not. So in order to find clue to where Esther might have gone to, she starts to look through her things for clues. Of course, what she finds isn't really helping to calm her nerves. She starts to panic wondering if Esther is even the person she thought she was and if she knew her at all.
Quinn is a bit insecure and that doesn't help when things start getting strange. Quinn becomes needy and paranoid. Not only does she doubt who Esther was, she starts to question her own ability to be a good roommate and friend. Even that being said, I liked Quinn. There was a normalcy to her. The fact that she didn't really know what she wanted to do with her life/job, how she was always just a little short on rent but found money to go out and how she really did like living with Esther.
We our introduced to 18 year old Alex as he works his job washing dishes in a small cafe, in a small town in Michigan. He is mesmerized when a young woman, who he's never seen, walks in while he's on his shift. It's all he can do to concentrate on his job. He even makes up a name for her since he's too shy to actually ask her for her name. He eventually does befriend her and by then he's in so deep, he can't see the warning signs.
I wasn't really sure which direction Ms. Kubica was going to go with this one. I couldn't wait to see how she linked the two stories together. It truly wasn't what I expected when she brought them together and by then you just wanted to flip the pages to see what the heck was going to happen.
Ms. Kubic's narrative and writing gets better with each novel she writes with her ability to master the suspense genre. If you like novels that keep you guessing and then make you turn the pages as fast as you can, then
Don't You Cry
is definitely for you.

Google+