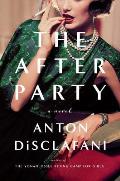 Author: Anton DiSclafani
Series: None
Publication Date: May 17, 2016
Publisher: Riverhead Books
Pages: 384
Obtained: publisher
Genre: Historical Fiction
Rating: 5/5
Bottom Line: Captivating


G

rab,

J

ust get it at the library, or

R

emove from your TBR list? Grab!
Summary:
Joan Fortier is the epitome of Texas glamour and the center of the 1950s Houston social scene. Tall, blonde, beautiful, and strong, she dominates the room and the gossip columns. Every man who sees her seems to want her; every woman just wants to be her. But this is a highly ordered world of garden clubs and debutante balls. The money may flow as freely as the oil, but the freedom and power all belong to the men. What happens when a woman of indecorous appetites and desires like Joan wants more? What does it do to her best friend? Devoted to Joan since childhood, Cece Buchanan is either her chaperone or her partner in crime, depending on whom you ask. But as Joan's radical behavior escalates, Cece's perspective shifts—forcing one provocative choice to appear the only one there is. A thrilling glimpse into the sphere of the rich and beautiful at a memorable moment in history, The After Party unfurls a story of friendship as obsessive, euphoric, consuming, and complicated as any romance. ~amazon.com
Review:
After Party
is the story of friendship and how far you would go to save a friend who you thought needed to be saved. It's about finding out how little you know about those closest to you. CeCe and Joan have been friends since they were little girls because they bonded not because their mother's were friends. Joan's mother didn't come from money, she married it and CeCe's mom had money, that's how things worked in Houston. Somehow, Joan and CeCe stayed close throughout childhood and young adulthood.
That is until Joan starts to act differently again. See Joan's erratic behavior isn't new to her circle of friends, this has happened before. It's the speed at which it's re-occurring that concerns CeCe. As a reader you question CeCe's motives at times. Is she too involved in wondering what Joan is doing? Is she stepping over boundaries of their friendship? And what about Joan? Does she even want CeCe around? Does she value their friendship?
I kept turning the pages because I wasn't quite sure where Ms. DiSclafani was going to take the novel. It definitely had a creepy/stalker vibe to it at times but then I also saw it through CeCe's eyes where she was just trying to help her friend. I loved the themes that she brought into the novel: friendship, motherhood and marriage. It also highlighted for me how as a society we have changed some aspects for women and yet some things remain the same.
I flew through this book because I wanted to know what the hell was up with Joan. Was she losing it? Was it an act to separate herself from the society women she wanted nothing to do with? Was she just trying to be different? Prove that she could break free from her mother's ideals?
Ms. DiSclafani has such a gift for storytelling. I was hooked from the first line of the novel. She is subtle in the way she addresses issues and will keep you thinking long after you put the book down. Although I don't participate in a book club, this would be an excellent choice for one.

Google+