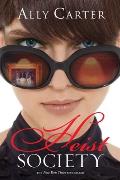 Author: Ally Carter
Series: Heist Society #1
Publication Date: June 24, 2014
Publisher: Disney-Hyperion
Pages: 304
Obtained: Gift from friend
Genre: Young Adult, Adventure
Rating: 4/5
Bottom Line: A fun start to the adventures of teen cons


G

rab,

J

ust get it at the library, or

R

emove from your TBR list? Grab!
Summary:
When Katarina Bishop was three, her parents took her on a trip to the Louvre…to case it. For her seventh birthday, Katarina and her Uncle Eddie traveled to Austria…to steal the crown jewels. When Kat turned fifteen, she planned a con of her own—scamming her way into the best boarding school in the country, determined to leave the family business behind. Unfortunately, leaving "the life" for a normal life proves harder than she'd expected. Soon, Kat's friend and former co-conspirator, Hale, appears out of nowhere to bring Kat back into the world she tried so hard to escape. But he has a good reason: a powerful mobster has been robbed of his priceless art collection and wants to retrieve it. Only a master thief could have pulled this job, and Kat's father isn't just on the suspect list, he is the list. Caught between Interpol and a far more deadly enemy, Kat's dad needs her help. For Kat, there is only one solution: track down the paintings and steal them back. So what if it's a spectacularly impossible job? She's got two weeks, a teenage crew, and hopefully just enough talent to pull off the biggest heist in her family's history--and, with any luck, steal her life back along the way. ~goodreads.com
Review:
Heist Society
is a fun book about a group of teen cons trying to do the right thing. The right thing involves stealing back stolen paintings because Kat's dad's life is on the line. So Kat's old friend, Hale, breaks her out of the boarding school to bring her back into the fold. Kat isn't quite happy to see Hale until she finds out that her dad is in trouble.
I like Kat a lot. She's a typical teenager but she's whip smart. She needs to be if she's going to pull off a major heist and secure her dad's safety. Kat's team isn't rag-tag but they are young. These teens are experienced in their own line of work. She has assembled the best team she knows in the short amount of time she has but she still needs one more to make their con even better. So she brings new guy, Nick, into the team.
I liked how there was history with the team that we as readers don't fully understand but slowly learn how the relationships are interwoven. I also liked how their con didn't come off perfectly because this was the first time doing it on their own.
I will definitely be reading the other books in this series and I gave it to my almost 11 year old to read because I think she'll like it.
Jenn's Review

Google+