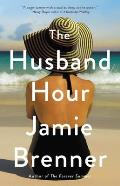 Author: Jamie Brenner
Series: None
Publication Date: April 24, 2018
Publisher: Little Brown & Company
Pages: 338
Obtained: Great Thoughts,Great Readers Book Salon
Genre: Contemporary Fiction, Women's Fiction
Rating: 4.5/5
Bottom Line: How do you heal when you are stunted by tragedy and guilt?


G

rab,

J

ust get it at the library, or

R

emove from your TBR list? Grab
Summary:
Lauren Adelman and her high school sweetheart, Rory Kincaid, are a golden couple. They marry just out of college as Rory, a star hockey player, earns a spot in the NHL. Their future could not look brighter when Rory shocks everyone-Lauren most of all-by enlisting in the U.S. Army. When Rory dies in combat, Lauren is left devastated, alone, and under unbearable public scrutiny. Seeking peace and solitude, Lauren retreats to her family's old beach house on the Jersey Shore. But this summer she's forced to share the house with her overbearing mother and competitive sister. Worse, a stranger making a documentary about Rory tracks her down and persuades her to give him just an hour of her time. One hour with filmmaker Matt Brio turns into a summer of revelations, surprises, and upheaval. As the days grow shorter and her grief changes shape, Lauren begins to understand the past-and to welcome the future. ~amazon.com
Review:
Husband Hour
is about Rory and Lauren but for me it was really about family. How you can love someone in your family but dislike them at the same time. To say that Lauren and her sister Stephanie are at odds would be putting it lightly. They haven't truly spoken in years and when Rory died, Stephanie didn't attend his funeral.Talk about some issues, right?
So the idea of spending the summer in their family home on the Jersey Shore with her sister, is completely unappealing; especially when Lauren has the house mainly to herself most of the year. Their mother, Beth, thinks this summer will just the thing to fix her family. She doesn't understand why her girls just can't get along.
As a reader, you really feel for Lauren and everything she's gone through, especially as you learn the backstory. You also want her to forgive herself and move on. She can't stay stunted forever, even though that's exactly what she's choosing to do by hiding on the shore all year. As much as I found Stephanie annoying, I wanted her and Lauren to find their way back to each other. After all a sister can be your best friend.
My favorite part of the novel might have been the subplot about their parents but more specifically about their mother's rebirth/renewal. I loved how after years of doing something that needed to be done she reignited her passion. I think it made her husband see her in a new light.
What Ms. Brenner does an excellent in this novel is showing how someone's death can stunt you in ways you didn't even know and how life can pass you by. She also shows the different family dynamics and how kids can have no clue what is going with their parents. It's a study in love, loss, forgiveness and re-birth.
I would highly suggest you get
Husband Hour
as one of your Spring reads. You won't be disappointed by it at all.

Google+