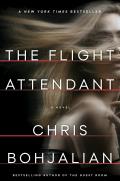 Author: Chris Bohjalian
Series: None
Publication Date: March 13, 2018
Publisher: Doubleday
Pages: 368
Obtained: publisher via NetGalley
Genre: Suspense, Thriller
Rating: 5/5
Bottom Line: Another fantastic novel by one of my favorites


G

rab,

J

ust get it at the library, or

R

emove from your TBR list? Grab
Summary:
Cassandra Bowden is no stranger to hungover mornings. She's a binge drinker, her job with the airline making it easy to find adventure, and the occasional blackouts seem to be inevitable. She lives with them, and the accompanying self-loathing. When she awakes in a Dubai hotel room, she tries to piece the previous night back together, counting the minutes until she has to catch her crew shuttle to the airport. She quietly slides out of bed, careful not to aggravate her already pounding head, and looks at the man she spent the night with. She sees his dark hair. His utter stillness. And blood, a slick, still wet pool on the crisp white sheets. Afraid to call the police - she's a single woman alone in a hotel room far from home - Cassie begins to lie. She lies as she joins the other flight attendants and pilots in the van. She lies on the way to Paris as she works the first class cabin. She lies to the FBI agents in New York who meet her at the gate. Soon it's too late to come clean-or face the truth about what really happened back in Dubai. Could she have killed him? If not, who did? Set amid the captivating world of those whose lives unfold at forty thousand feet, The Flight Attendant unveils a spellbinding story of memory, of the giddy pleasures of alcohol and the devastating consequences of addiction, and of murder far from home. ~amazon.com
Review:
Prior to reading the book I saw a lot of people commenting on how they didn't like Cassie. I'm a believer that you don't have to like the main character to enjoy a novel. I didn't have such strong feelings for Cassie. I'm not saying she wasn't a hot mess because she was that and a while lot more but I felt sorry for her because she didn't have any strong relationship and didn't really care about herself. She was an alcoholic, which is a disease but she was self-destructive.
Waking up beside a man she barely knows isn't really new for Cassie but him being dead in the morning is. Since she's pretty much a blackout drunk, she can't say for sure if she murdered him or not but she does feel like she is capable of that even at her drunkest. What happens next has you guessing who to believe and who to not believe. Did Cassie kill him? Was it in self-defense? Or has she stepped into something much more sinister than she could ever imagine. Will she keep lying to herself and those around her or will she realize that this is perhaps the best time to tell the truth.
Mr. Bohjalian really does keep the reader engaged and on their "toes". There are many twists and turns that I truly didn't see coming but looking back I feel like there were probably hints. I also wonder if Cassie was targeted from the beginning because of her drinking and blackouts.
I love spy movies and books so I was thrilled when this book had that edge to it. It is a fast paced thriller that will have you wondering what the hell is going on until it all comes together in the end.
The Flight Attendant
is another fantastic character study novel by Mr. Bohjalian. I can only imagine the research that went into this one!

Google+