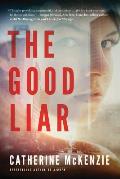 Author: Catherine McKenzie
Series: None
Publication Date: April 3, 2018
Publisher: Lake Union
Pages: 338
Obtained: Great Thoughts, Great Readers Book Salon
Genre: Suspense, Psychological Thriller
Rating: 4.25/5
Bottom Line: If you keep secrets does that make you a liar?


G

rab,

J

ust get it at the library, or

R

emove from your TBR list? Grab
Summary:
When an explosion rips apart a Chicago building, the lives of three women are forever altered. A year later, Cecily is in mourning. She was supposed to be in the building that day. Instead, she stood on the street and witnessed it going down, with her husband and best friend inside. Kate, now living thousands of miles away, fled the disaster and is hoping that her past won't catch up with her. And Franny, a young woman in search of her birth mother, watched the horror unfold on the morning news, knowing that the woman she was so desperate to reconnect with was in the building. Now, despite the marks left by the tragedy, they all seem safe. But as its anniversary dominates the media, the memories of that terrifying morning become dangerous triggers. All these women are guarding important secrets. Just how far will they go to keep them? ~amazon.com
Review:
The Good Liar
was my first Catherine McKenzie book but it won't be my last. She has written a novel where everyone has secrets but that doesn't necessarily mean they are a liar. How can one moment can change the lives of 3 women inexplicably? This what she examines and peels back the layers on.
Cecily is the poster child/woman for the family's of the accident. Except she's hiding something from they world but most of all her family. In the end though, I felt that she was just racked with guilt and trying to protect her family. Kate, well she's got a couple screws loose. She ran away when the opportunity presented itself and then came back when it suited her needs as well. I wouldn't call her selfish but broken. Her intentions might mean well but were executed poorly. Then there is Franny; coo-coo for cocoa puffs but I'll let you read about her but I'm just going to say is that she needs some serious help.
While there were a few things I figured out before they were revealed, it didn't ruin the book at all for me. In fact even though I figured them out how the characters reacted was not what I expected, so that was refreshing. I also wanted to see how she would end it and I definitely didn't expect the ending.
If you are looking for a great suspense novel, pick up
The Good Liar
.

Google+