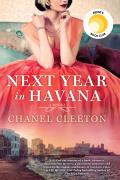 Author: Chanel Cleeton
Series: None
Publication Date: February 6, 2018
Publisher: Berkley
Pages: 400
Obtained: Great Thoughts for Great Readers Book Salon
Genre: Historical Fiction, Contemporary Fiction
Rating: 4/5
Bottom Line: Seemed a bit scattered to me


G

rab,

J

ust get it at the library, or

R

emove from your TBR list? Grab
Summary:
After the death of her beloved grandmother, a Cuban-American woman travels to Havana, where she discovers the roots of her identity--and unearths a family secret hidden since the revolution... Havana, 1958. The daughter of a sugar baron, nineteen-year-old Elisa Perez is part of Cuba's high society, where she is largely sheltered from the country's growing political unrest--until she embarks on a clandestine affair with a passionate revolutionary...Miami, 2017. Freelance writer Marisol Ferrera grew up hearing romantic stories of Cuba from her late grandmother Elisa, who was forced to flee with her family during the revolution. Elisa's last wish was for Marisol to scatter her ashes in the country of her birth. Arriving in Havana, Marisol comes face-to-face with the contrast of Cuba's tropical, timeless beauty and its perilous political climate. When more family history comes to light and Marisol finds herself attracted to a man with secrets of his own, she'll need the lessons of her grandmother's past to help her understand the true meaning of courage. ~amazon.com
Review:
Let's just start by saying that the cover for this is gorgeous! As someone who isn't very familiar with the history of Cuba and the revolution, this part was eye opening. The people you expect to be your saviors don't always turn out that way which was the case in Fidel.
Marisol is in Cuba writing an article about tourism but she's really there to scatter her grandmother's ashes. Growing up her grandmother used to fill Marisol's head with stories of Cuba before Fidel came to be in power. She knew that her grandmother's wish was to have her ashes spread in her homeland but exactly where was something that Marisol would need to decide. As a Cuban-American, Marisol wants to understand the country that is her heritage and why her family had to flee. What she doesn't expect is to uncover her grandmother's life and love before she moved to Miami.
Ms. Cleeton chose to tell the story from both Elisa and Marisol's point of views. What this gives us is a glimpse into the time in Cuba during the revolution and the fear that the wealthy lived in. They lived in fear of what Batista would do to them if he felt they weren't closely aligned to him and they feared Castro afterwards because of how quickly he changed the landscape of the country.
I loved the past a bit more than the contemporary parts just because I have limited knowledge on Cuba and it's history. I also felt that Marisol's story was a bit predictable.
Next Year in Havana
is about finding out your family history and realizing you have more in common with them then you thought.

Google+