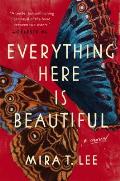 Author: Mira T. Lee
Series: None
Publication Date: January 16, 2018
Publisher: Pamela Dorman Books
Pages: 368
Obtained: publisher via Netgalley
Genre: Contemporary Fiction
Rating: 3.5/5
Bottom Line: I enjoyed it but wanted a bit more emotion from it


G

rab,

J

ust get it at the library, or

R

emove from your TBR list? Library
Summary:
Two Chinese-American sisters—Miranda, the older, responsible one, always her younger sister's protector; Lucia, the headstrong, unpredictable one, whose impulses are huge and, often, life changing. When Lucia starts hearing voices, it is Miranda who must find a way to reach her sister. Lucia impetuously plows ahead, but the bitter constant is that she is, in fact, mentally ill. Lucia lives life on a grand scale, until, inevitably, she crashes to earth. Miranda leaves her own self-contained life in Switzerland to rescue her sister again—but only Lucia can decide whether she wants to be saved. The bonds of sisterly devotion stretch across oceans—but what does it take to break them? Everything Here Is Beautiful is, at its heart, an immigrant story, and a young woman's quest to find fulfillment and a life unconstrained by her illness. But it's also an unforgettable, gut-wrenching story of the sacrifices we make to truly love someone—and when loyalty to one's self must prevail over all. ~amazon.com
Review:
The cover for
Everything Here Is Beautiful
is gorgeous as are the words on the pages but this one fell a bit short for me. I wanted it to evoke more emotion from me. We are introduced to both Miranda and Lucia when they are young kids and then reintroduced when they are older adults and dealing with the death of their mother.
Miranda constantly worries about Lucia not only because she's the older sister but Lucia has had some mental instability in her past. Lucia is carefree and fun until she starts to go start having issues with her stability. How far will Miranda go to save her sister, maybe in sacrificing her own health? Is it her responsibility to take care of Lucia now that she's an adult? At what point should Lucia be in charge of her own health? Can she even manage it?
I did appreciate was how Ms. Lee wrote and presented mental illness. She shows it from all points of view, including Lucia who is the one with the illness. She shows the effects of mental illness on everyone and the weariness.
I would like to see more books deal with the reality of mental illness like Ms. Lee does in
Everything Here Is Beautiful.

Google+