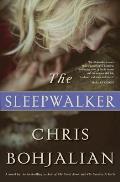 Author: Chris Bohjalian
Series: None
Publication Date: January 10, 2017
Publisher: DoubleDay Books
Pages: 368
Obtained: publisher via NetGalley
Genre: Mystery, Psychological Thriller
Rating: 5/5
Bottom Line: A gripping novel about how there are ripple effects to tragedy that aren't known at the time


G

rab,

J

ust get it at the library, or

R

emove from your TBR list? Grab
Summary:
When Annalee Ahlberg goes missing, her children fear the worst. Annalee is a sleepwalker whose affliction manifests in ways both bizarre and devastating. Once, she merely destroyed the hydrangeas in front of her Vermont home. More terrifying was the night her older daughter, Lianna, pulled her back from the precipice of the Gale River bridge. The morning of Annalee's disappearance, a search party combs the nearby woods. Annalee's husband, Warren, flies home from a business trip. Lianna is questioned by a young, hazel-eyed detective. And her little sister, Paige, takes to swimming the Gale to look for clues. When the police discover a small swatch of fabric, a nightshirt, ripped and hanging from a tree branch, it seems certain Annalee is dead, but Gavin Rikert, the hazel-eyed detective, continues to call, continues to stop by the Ahlbergs' Victorian home. As Lianna peels back the layers of mystery surrounding Annalee's disappearance, she finds herself drawn to Gavin, but she must ask herself: Why does the detective know so much about her mother? Why did Annalee leave her bed only when her father was away? And if she really died while sleepwalking, where was the body? Conjuring the strange and mysterious world of parasomnia, a place somewhere between dreaming and wakefulness, The Sleepwalker is a masterful novel from one of our most treasured storytellers. ~amazon.com
Review:
The Sleepwalker
is frankly another masterful novel by Chris Bohjalian. If you haven't read him, then you need to start. If you have read him, then you will want to add this one to the list of books you've read by him. We are introduced to the Ahlberg's when their mother has gone missing and the hopes of finding her alive dwindle with each passing day. It doesn't help that a piece of fabric from her nightshirt has been found near the river.
The story is told from the eldest daughter, Lianna's point of view and her account of the aftermath of her mom's disappearance. She decides to stay at home during the fall term of her last year of college to help care for her father and sister. I believe it is also because she can't handle going back to academia, which is also understandable. At times she does use her father and sister as a crutch though for not being able to return to real life.
What I loved about Lianna was that she kept digging for answers even when she should have probably left well enough alone. She wanted to have the puzzle of her mother's death completed before she could really move on with her life. I think it's one of the reasons Detective Gavin Rickert interested her at first. I think she wanted to get close to him to 1) understand her mother and 2) to bounce ideas/theories about her mom off of him for his professional experience.
What I love about Mr. Bohjalian's novels is that I always learn something new and often dig in a little bit more via google to get to understand the subject matter a bit better. I had no clue about all the different types of sleepwalking and how it affects people. I can't imagine dealing with these issues as an adult and knowing there is no cure for the affliction.
He's also splendid at the red herrings throughout the novel. There were a few times that I thought we were going to go down a particular path but then that turned out to be a dead end and he'd take us on another path. I am always amazed at how he pulls it all together in the end without you thinking that the ending was from left field.
The Sleepwalker
is my 2nd favorite novel of his next to The Double Bind. This one clearly knocked my socks off but as I stated before, you can't go wrong with any of his books.

Google+