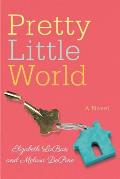 Author: Melissa DePino, Elizabeth LaBan
Series: None
Publication Date: January 17, 2017
Publisher: Lake Union
Pages: 320
Obtained: Little Bird Publicity
Genre: Contemporary Fiction
Rating: 4/5
Bottom Line: Can friends really be your family when you all live under one roof?


G

rab,

J

ust get it at the library, or

R

emove from your TBR list? Library
Summary:
On a cozy street in Philadelphia, three neighboring families have become the best of friends. They can't imagine life without one another—until one family outgrows their tiny row house. In a bid to stay together, a crazy idea is born: What if they tear down the walls between their homes and live together under one roof? And so an experiment begins. Celia and Mark now have the space they need. But is this really what Celia's increasingly distant husband wants? Stephanie embraces the idea of one big, happy family, but has she considered how it may exacerbate the stark differences between her and her husband, Chris? While Hope always wanted a larger family with Leo, will caring for all the children really satisfy that need? Behind closed doors, they strive to preserve the closeness they treasure. But when boundaries are blurred, they are forced to question their choices…and reimagine the true meaning of family. ~amazon.com
Review:
Pretty Little World
had much more depth to it than I thought it would, if I'm being honest. I thought it was going to be a little superficial and hippie-ish for me but I found myself very intrigued to see how it would turn out. The 6 couples all live on a dead end street in a desirable area of Philadelphia and pretty much spend all their time together. Their kids are the best of friends. So when a leak springs between 2 of the houses, they seize the opportunity to combine their 3 house into one huge living space.
Celia wants to have set rules because that's who she is, where as Stephanie wants to see where the natural boundaries get set. Hope is more about ensuring that everyone is getting what they need and taking care of the kids. The men are happy to have their needs taken care of by a bevy of women. The novel is interesting and intriguing and definitely not something I would ever venture to do. You expose your private life like never before. You have too many relationships to satisfy and really not enough time.
Also, if you are going to allow someone to essentially raise your kids with theirs, you have to be ok with how they are doing that. You have to be ok when your kids want her over you. You have to be fine with the fact that your closest friends will know what's going on in your marriage or what's not going on.
There were definitely characters who were in the background compared to those who had a full story line and the authors had to do it that way otherwise there would have been too much going on. As it was, things were a bit confusing at first while I got the characters straight in my head.
Ms. DePino and Ms. LaBan do a great job of making you curious about what goes on behind closed doors and how these families are going to make it work while keeping their marriages and friendships intact. Will it be the blissful commune they think or will it be a complete disaster? The truth is that it is somewhere in between.
Pretty Little World
is an intriguing read that will make you think about what you do once your door closes to your house.

Google+