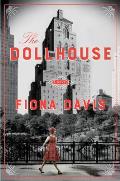 Author: Fiona Davis
Series: None
Publication Date: August 23, 2016
Publisher: Dutton
Pages: 304
Obtained: publisher via Netgalley
Genre: Contemporary Fiction, Historical Fiction
Rating: 4.5/5
Bottom Line: A terrific read with history and mystery abounds


G

rab,

J

ust get it at the library, or

R

emove from your TBR list? Grab
Summary:
When she arrives at the famed Barbizon Hotel in 1952, secretarial school enrollment in hand, Darby McLaughlin is everything her modeling agency hall mates aren't: plain, self-conscious, homesick, and utterly convinced she doesn't belong—a notion the models do nothing to disabuse. Yet when Darby befriends Esme, a Barbizon maid, she's introduced to an entirely new side of New York City: seedy downtown jazz clubs where the music is as addictive as the heroin that's used there, the startling sounds of bebop, and even the possibility of romance. Over half a century later, the Barbizon's gone condo and most of its long-ago guests are forgotten. But rumors of Darby's involvement in a deadly skirmish with a hotel maid back in 1952 haunt the halls of the building as surely as the melancholy music that floats from the elderly woman's rent-controlled apartment. It's a combination too intoxicating for journalist Rose Lewin, Darby's upstairs neighbor, to resist—not to mention the perfect distraction from her own imploding personal life. Yet as Rose's obsession deepens, the ethics of her investigation become increasingly murky, and neither woman will remain unchanged when the shocking truth is finally revealed. ~amazon.com
Review:
The Dollhouse
is a novel that will transport you to the late 1950s New York during a time when women were truly starting to find their place in the workforce. It also is about modern New York and the struggles that the modern woman has keeping it all up. It transported me to the smokey room of an underground club where bebop was played and drugs were ingested. It showcased how far women have come but how we still struggle to balance it all. I love the mystery that was intertwined with the history.
Both Darby and Rose are forces to be reckoned with but in distinctly different ways. Darby comes into her own the short time she is in New York at the Barbizon. She finds it within herself to stay strong in the face of life when it gets tough. Darby is anything but tough when she comes to the Barbizon. She's lived a sheltered life in her hometown and New York is anything but sheltered. So when the models chew her up and spit her out, she's despondent and Esme befriends her. Some how Esme gets her to break curfew and go to a seedy underground club. Reflecting back on the book, I wonder if Esme befriended Darby because she wanted to mold her into something or that she knew she'd need her at some point. Was she preying on Darby's naivete?
Rose is tenacious. Once she smells the story in the women who live on the fourth floor, she won't give up until she has all of their stories. Darby is the key to her story but she's only had one run in with her and Darby didn't seem all that friendly. She's also looking for something to distract her from the fact that her boyfriend left her to return to his ex-wife. The story and Darby's mystery begins to consume her and she made some questionable choices.
I loved how both of the story lines ended up coming together in the end. I did feel that the ending of the story was a tad rushed and that there was a red herring that really wasn't necessary because Darby's story was fascinating enough without it. I loved learning about the history of another building in New York. It got me thinking about single women today and if something like the Barbizon would work especially when you are just beginning your career? Maybe you don't have the chaperone but it would provide an interesting social study.
For fans of mysteries and historical fiction, you won't want to miss
The Dollhouse
. Plus, don't you just love the cover?!!

Google+