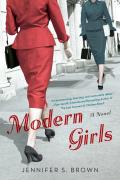 Author: Jennifer S. Brown
Series: None
Publication Date: April 5, 2016
Publisher: NAL
Pages: 384
Obtained: Get Red PR
Genre: Historical Fiction
Rating: 4/5
Bottom Line: A touching look at the trials & tribulations of a girl on the cusp of having the life she wants and her mother who wants better for her children


G

rab,

J

ust get it at the library, or

R

emove from your TBR list? Grab!
Summary:
A dazzling debut novel set in New York City's Jewish immigrant community in 1935...How was it that out of all the girls in the office, I was the one to find myself in this situation? This didn't happen to nice Jewish girls. In 1935, Dottie Krasinsky is the epitome of the modern girl. A bookkeeper in Midtown Manhattan, Dottie steals kisses from her steady beau, meets her girlfriends for drinks, and eyes the latest fashions. Yet at heart, she is a dutiful daughter, living with her Yiddish-speaking parents on the Lower East Side. So when, after a single careless night, she finds herself in a family way by a charismatic but unsuitable man, she is desperate: unwed, unsure, and running out of options. After the birth of five children—and twenty years as a housewife—Dottie's immigrant mother, Rose, is itching to return to the social activism she embraced as a young woman. With strikes and breadlines at home and National Socialism rising in Europe, there is much more important work to do than cooking and cleaning. So when she realizes that she, too, is pregnant, she struggles to reconcile her longings with her faith. As mother and daughter wrestle with unthinkable choices, they are forced to confront their beliefs, the changing world, and the fact that their lives will never again be the same…. ~amazon.com
Review:
Modern Girls
is a beautiful story about the relationship between a mother and daughter, the choices we make and the options we have. In 1935 you had very few options if you became pregnant out of wedlock: get married or move to hide the shame from friends and family. These women in the novel are the ones who paved the way for us to our current options.
Dottie is an up and comer. She's smart, fashionable and friendly. She seems to have it all, including her very handsome beau, Abe. She's also a little annoying at times. I just wanted her to get her head out of her butt for a minute and really think about her options. She's a bit stubborn and still thinking that she can have it all.
Rose, is a mom of 4, who is ready to move on with her life now that the kids are all getting a little older. She wants to get back her social activism that she's missed since having to rear the kids. Now she's in for a surprise when she realizes that she's pregnant. She knows that she doesn't have options as she's told her husband that she's expecting again and he's over the moon. Rose, she's not so sure what to think.
While yes this is a novel about the limits of the choices women had back in 1935 for me it was more about the relationship between Rose and Dottie that kept the novel humming. I loved how Ms. Brown flipped it a little bit by making Rose the more progressive thinker than her daughter Dottie. I found that a bit refreshing that it was the daughter scolding the mother for not thinking forward but rather the mother doing that to the daughter.
Finally, Dottie takes control of her situation and while it might have been the decision her mother wanted her to make, it showed a bit of gumption on her part. I was happy that she was no longer a by-stander in her own life and decision making but took the reigns.
Ms. Brown did an excellent job of describing the time period and the customs during that time, which I'm sure still exist today but maybe not as broad. She got the complexity of a mother/daughter relationship down perfectly, especially as Dottie is trying to gain her independence.
While the novel it's full of action, it kept me turning the pages because I wanted to know what happened to them. For fans of Historical Fiction,
Modern Girls
is one you won't want to miss.

Google+