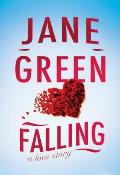 Author: Jane Green
Series: None
Publication Date: July 19, 2016
Publisher: Berkley/NAL
Pages: 384
Obtained: publisher via NetGalley
Genre: Women's Fiction
Rating: 4.75/5
Bottom Line: Classic Jane Green in the best way


G

rab,

J

ust get it at the library, or

R

emove from your TBR list? Grab!
Summary:
When Emma Montague left the strict confines of upper-crust British life for New York, she felt sure it would make her happy. Away from her parents and expectations, she felt liberated, throwing herself into Manhattan life replete with a high-paying job, a gorgeous apartment, and a string of successful boyfriends. But the cutthroat world of finance and relentless pursuit of more began to take its toll. This wasn't the life she wanted either. On the move again, Emma settles in the picturesque waterfront town of Westport, Connecticut, a world apart from both England and Manhattan. It is here that she begins to confront what it is she really wants from her life. With no job, and knowing only one person in town, she channels her passion for creating beautiful spaces into remaking the dilapidated cottage she rents from Dominic, a local handyman who lives next door with his six-year-old son. Unlike any man Emma has ever known, Dominic is confident, grounded, and committed to being present for his son whose mother fled shortly after he was born. They become friends, and slowly much more, as Emma finds herself feeling at home in a way she never has before. But just as they start to imagine a life together as a family, fate intervenes in the most shocking of ways. For the first time, Emma has to stay and fight for what she loves, for the truth she has discovered about herself, or risk losing it all. In a novel of changing seasons, shifting lives, and selfless love, a story unfolds—of one woman's far-reaching journey to discover who she is truly meant to be. ~amazon.com
Review:
Falling
is exactly what I would expect out of a Jane Green novel and I couldn't be happier. I've read Jane for years and has seen how her writing and subject matters have grown. Her latest is about a woman, Emma, who gives up the city life and the big banking job for a more subdued life in Westport, CT. Since she's unsure of where she's really going to end up, she decides to just rent a lovely beach house for a year; see where life takes her. It is renting this beach house and meeting the handsome landlord, Dominic, that sets her life in motion.
It is a slow, easy going romance. In fact, it develops overtime instead of being an instant relationship, which I appreciated. Emma was so determined that Dominic wasn't her type, that she kept pushing him into the friend-zone, until neither of them could deny it any longer. Of course there are hiccups and bumps along the way but they are things I would expect in real life. Those daily things that every relationship needs to work through, until of course, the worst thing happens.
I'm surprised I didn't cry because usually the circumstances in this novel would have but I knew that Emma was a strong enough woman that she would be ok. She would make sure that those she loved were cared for and would be ok. I wasn't sure how she would keep living in Westport but she did because after all she made it her home.
Besides Emma and Dominic there are great secondary characters in the novel that make for a well-rounded cast. They support and encourage both of them and are there when they are needed.
I would LOVE to see this as a movie. In fact, it would make my day. I'm surprised that one of her novels isn't a movie! So Hollywood, listen up and get to moving on that, would ya!!
If you are looking for some solid story telling with a couple to root for, then pick up
Falling
.

Google+