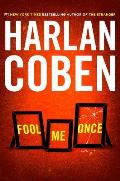 Author: Harlan Coben
Series: None
Publication Date: March 22, 2016
Narrator: January LaVoy
Publisher: Brilliance Audio
Length: 10 Hours 5 Minutes
Obtained: purchased
Genre: Mystery, Thriller
Rating: 4.75/5
Bottom Line: Harlan Coben does it again


G

rab,

J

ust get it at the library, or

R

emove from your TBR list? Grab!
Summary:
In Fool Me Once, Coben once again outdoes himself. Former special ops pilot Maya, home from the war, sees an unthinkable image captured by her nanny cam while she is at work: her two-year-old daughter playing with Maya's husband, Joe—who was brutally murdered two weeks earlier. The provocative question at the heart of the mystery: Can you believe everything you see with your own eyes, even when you desperately want to? To find the answer, Maya must finally come to terms with deep secrets and deceit in her own past before she can face the unbelievable truth about her husband—and herself. ~amazon.com
Review:
Fool Me Once
is another great novel from Harlan Coben. Once it starts it never stops, especially with the twists and turns. I wouldn't say that I liked Maya but I respected her. She was focused and determined and she must have been one hell of a soldier. Now she's trying to figure out why Joe was murdered and why is he showing up on her nanny-cam that she received after his funeral.
Seeing this video sends Maya on a crazy chase that not only brings in Joe's murder but the murder of her sister as well. How are the two connected? Are they connected? Does Maya's military history have anything to do with this? Also what are these flashbacks she keeps having?
Mr. Coben knows how to suck me in from page one and his novels never disappoint me. While this one took me longer because it was on audio, I have no doubt that in print I would have flown through it. Ms. LaVoy did a great job with it but I think that I will stick to reading his books instead of listening to his novels.
This book keeps you guessing until the very under with quite the double whammy in the end. If you haven't read his novels, then
Fool Me Once
isn't a bad place to start. He does have quite the back-list if you get hooked!

Google+