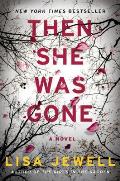 Author: Lisa Jewell
Series: None
Publication Date: April 17, 2018
Publisher: Atria
Pages: 368
Obtained: publisher via Netgalley
Genre: Psychological Thriller, Suspense
Rating: 4/5
Bottom Line: Can you ever fully recover from the loss of a child?


G

rab,

J

ust get it at the library, or

R

emove from your TBR list? Grab
Summary:
Ellie Mack was the perfect daughter. She was fifteen, the youngest of three. She was beloved by her parents, friends, and teachers. She and her boyfriend made a teenaged golden couple. She was days away from an idyllic post-exams summer vacation, with her whole life ahead of her. And then she was gone. Now, her mother Laurel Mack is trying to put her life back together. It's been ten years since her daughter disappeared, seven years since her marriage ended, and only months since the last clue in Ellie's case was unearthed. So when she meets an unexpectedly charming man in a café, no one is more surprised than Laurel at how quickly their flirtation develops into something deeper. Before she knows it, she's meeting Floyd's daughters—and his youngest, Poppy, takes Laurel's breath away.Because looking at Poppy is like looking at Ellie. And now, the unanswered questions she's tried so hard to put to rest begin to haunt Laurel anew. Where did Ellie go? Did she really run away from home, as the police have long suspected, or was there a more sinister reason for her disappearance? Who is Floyd, really? And why does his daughter remind Laurel so viscerally of her own missing girl? ~amazon.com
Review:
Then She Was Gone is one of those psychological thrillers that as a parent will scare the crap out of you but as a fan of thrillers, will delight you and will keep you turning the pages. It is creepy in a this could really happen. It will make you hesitate about those you let into your lives and the lives of your children.
Laurel is still reeling from her golden child, Ellie, going missing 7 years prior. She lost her marriage and her other 2 children over her inability to get over it. Now there's a new development in it and in some ways it brings all the pain back and in other ways it helps her find some closure. She's decided that she needs to move on with her life and that is what Ellie would want her to do. Pretty soon after deciding to move on she meets Floyd. Floyd seems a little too good to be true and then when she meets his youngest daughter, Poppy; her alerts go on high. You see Poppy looks like Ellie but not just her mannerisms are like Ellie's as well. She brushes it off given everything that has happened lately her brain is in overdrive. It's not like over the years other girls haven't looked like Ellie to her.
We get flashbacks to what happened to Ellie and it's not pretty. In fact, it's every parents nightmare. We see her struggles and her fighting to defend herself. We see her cope with the situation she is in and how she focuses on her family. Is Ellie really linked to Poppy? If so, how?
While reading this book I did wonder if Ellie was truly the golden child or if she was hiding something from everyone. It turns out that she really was a good kid who happened across an unstable person who became obsessed with her.
The ending of the book will leave you hopeful and yet a bit shattered. Ms. Jewell certainly has a way of writing an engaging psychological thriller.

Google+