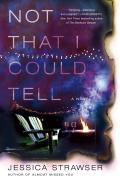 Author: Jessica Strawser
Series: None
Publication Date: March 27, 2018
Publisher: St. Martin's Press
Pages: 338
Obtained: publisher via Netgalley
Genre: Mystery, Suspense
Rating: 4/5

Bottom Line: Another book that asks: "How well do you know your neighbors?"


G

rab,

J

ust get it at the library, or

R

emove from your TBR list? Grab
Summary:
When a group of neighborhood women gathers, wine in hand, around a fire pit where their backyards meet one Saturday night, most of them are just ecstatic to have discovered that their baby monitors reach that far. It's a rare kid-free night, and they're giddy with it. They drink too much, and the conversation turns personal. By Monday morning, one of them is gone. Everyone knows something about everyone else in the quirky small Ohio town of Yellow Springs, but no one can make sense of the disappearance. Kristin was a sociable twin mom, college administrator, and doctor's wife who didn't seem all that bothered by her impending divorce―and the investigation turns up more questions than answers, with her husband, Paul, at the center. For her closest neighbor, Clara, the incident triggers memories she thought she'd put behind her―and when she's unable to extract herself from the widening circle of scrutiny, her own suspicions quickly grow. But the neighborhood's newest addition, Izzy, is determined not to jump to any conclusions―especially since she's dealing with a crisis of her own. As the police investigation goes from a media circus to a cold case, the neighbors are forced to reexamine what's going on behind their own closed doors―and to ask how well anyone really knows anyone else. ~amazon.com
Review:
Not That I Could Tell
is another novel that makes us question how well we know our neighbors and our friends. Appearances aren't always what they seem and people can keep things they don't want out hidden.
Izzy, the new neighbor, doesn't want her new friends to know just how lonely she really is. She's been through a lot and trying to figure out how to move on. Clara, is the person that everyone wants to be friends with because she's the stay at home mom who tries to have it all together but you know she doesn't. It makes her endearing. Then there is Kristin that we don't get to know but learn about her through her friends. She remains a mystery right up until the end.
Each of them have a little something to hide. Although I didn't think any of them had major issues to keep to themselves except for Paul. Paul was creepy. Paul was off kilter and frankly a bit weird. He didn't seem too upset about his missing wife and kids which of course is always the case in a book like this; the husband is the suspect. Except the case fizzles out pretty quickly and the police have no reason to keep him in their sights. Especially since Kristin took the money and ran.
What got me was the ending of this book. It completely took me by surprise and made the whole journey worth it to me. I would definitely recommend this one for fans of suspense.

Google+