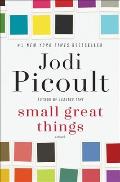 Author: Jodi Picoult
Series: None
Publication Date: October 11, 2016
Publisher: Ballantine Books
Pages: 480
Obtained: publisher via Netgalley
Genre: Contemporary Fiction
Rating: 5/5
Bottom Line: Her best and most insightful book to date


G

rab,

J

ust get it at the library, or

R

emove from your TBR list? Grab!
Summary:
Ruth Jefferson is a labor and delivery nurse at a Connecticut hospital with more than twenty years' experience. During her shift, Ruth begins a routine checkup on a newborn, only to be told a few minutes later that she's been reassigned to another patient. The parents are white supremacists and don't want Ruth, who is African American, to touch their child. The hospital complies with their request, but the next day, the baby goes into cardiac distress while Ruth is alone in the nursery. Does she obey orders or does she intervene? Ruth hesitates before performing CPR and, as a result, is charged with a serious crime. Kennedy McQuarrie, a white public defender, takes her case but gives unexpected advice: Kennedy insists that mentioning race in the courtroom is not a winning strategy. Conflicted by Kennedy's counsel, Ruth tries to keep life as normal as possible for her family—especially her teenage son—as the case becomes a media sensation. As the trial moves forward, Ruth and Kennedy must gain each other's trust, and come to see that what they've been taught their whole lives about others—and themselves—might be wrong. ~amazon.com
Review:
Small Great Things
is a book that will make you uncomfortable. It will make you question your own biases, because let's be honest we all have them. I find that biases are based on experiences, either negative or positive. You will experience strong feelings while reading it and you SHOULD. This is one of those books that I felt the need to give my husband updates about, even if he wasn't going to read it. The interesting thing is a couple times he wanted to know what was going on, which he really never does.
Ruth is a great nurse, she knows her stuff, she's been doing it for 20 years. So she's not sure what she did to piss off new parents after examining their newborn son when they ask to speak to her supervisor. She's immediately pulled off the case and not to have any contact and then she see that there is a sticky note on the baby's file "No African-Americans". Which pissed her off and rightfully so. So when the baby has a medical emergency and Ruth is the only one in the room, she does what she's been trained to do, be a nurse.
Turk, is the father of the baby and the requester that Ruth be taken off their case. So it's easy to understand his distress when his baby dies and he's looking for someone to blame. Who easier to blame than Ruth, the black nurse. When tragedy happens, we look for someone to blame. Now don't get me wrong he's a despicable human being but he suffered a great loss and is grieving. The way he lashes out it horrific and eye opening. It is how the white supremacist movement operates now that is perhaps the scariest thing of this book. They aren't in your face, burning crosses (well some still do) but they could be your neighbor or your co-worker. They spew hate without thinking twice and it's not just if you are of a different race these days, they hate anyone who isn't like them.
One of the things that has stuck with me since closing the novel is when Kennedy says that she now sees color instead of saying that she doesn't. Once we acknowledge there are difference based on race, perhaps that's when real talk, healing and change can happen. Until we try to walk in the shoes of those that are different than us and open our eyes to their struggles or challenges, we won't move forward.
We have made great strides in the last 50 years and I believe that we will continue to make those strides but only if we each make a conscious effort to understand each other. I highly recommend
Small Great Things
because it will make you think, pause and want to understand.

Google+