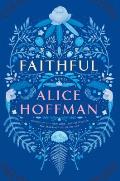 Author: Alice Hoffman
Series: None
Publication Date: November 1, 2016
Publisher: Simon & Schuster
Pages: 272
Obtained: publisher via Netgalley
Genre: Contemporary Fiction
Rating: 4.5/5
Bottom Line: A story about pain, sorrow, love and healing


G

rab,

J

ust get it at the library, or

R

emove from your TBR list? Grab
Summary:
Growing up on Long Island, Shelby Richmond is an ordinary girl until one night an extraordinary tragedy changes her fate. Her best friend's future is destroyed in an accident, while Shelby walks away with the burden of guilt. What happens when a life is turned inside out? When love is something so distant it may as well be a star in the sky? Faithful is the story of a survivor, filled with emotion—from dark suffering to true happiness—a moving portrait of a young woman finding her way in the modern world. A fan of Chinese food, dogs, bookstores, and men she should stay away from, Shelby has to fight her way back to her own future. In New York City she finds a circle of lost and found souls—including an angel who's been watching over her ever since that fateful icy night. Here is a character you will fall in love with, so believable and real and endearing, that she captures both the ache of loneliness and the joy of finding yourself at last. For anyone who's ever been a hurt teenager, for every mother of a daughter who has lost her way, Faithful is a roadmap. ~amazon.com
Review:
Faithful
is no different than Alice Hoffman's other novels because it has a bit of the mystical element to it. This novel is the study of forgiveness, guilt and moving on. Ms. Hoffman uses Shelby as her conduit and she's the perfect one for this novel. You can't help but feel for Shelby but you also want to shake her at times. She carries around much more pain and guilt that is needed. Over time we her grow and learn to move on and eventually forgive herself. It is about love, life and death. How all of those things are intertwined.
Shelby is lost. She is depressed and she has no clue how to dig herself out of the hole she is in. Her only friend is her weed dealer, Ben Mink. She's talked to him more in the past year than her own parents. She's looking for a way out of the town she feels suffocated in since the accident that set her on a different path than the one she was on. You see Shelby was one half of the duo Helene and Shelby; Helene was the truly beautiful one and Shelby was pretty enough. Helene was her best friend but she was the one that was the troublemaker. Shelby went along for the ride.
Shelby is on a long journey to rid herself of the self-loathing and guilt. She needs to learn to trust herself, let go of her demons and to open herself up to others. She's punishing herself for the accident and doesn't think she deserves happiness. Through the persistent of others, little by little, Shelby is restored to life.
Faithful is about being restored by love, hope and persistence. It's about finding something that brings you joy and makes you feel alive, even if it seems like a small thing. Small things can have profound effects. This book make me laugh and made me cry. I felt sorrow for Shelby but I also felt joy and hope for her. I wanted her to find what she was looking both inside herself and in the world. I loved the way the mysterious postcards played out. I loved how she looked forward to them and that they gave her hope. Don't we all need a little hope and joy in our lives?
If you've never read Alice Hoffman, you are missing out. If you have, then you won't want to miss
Faithful
.

Google+