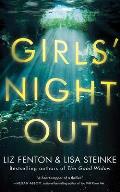 Author: Liz Fenton, Lisa Steinke
Series: None
Publication Date: July 24, 2018
Publisher: Lake Union
Pages: 338
Obtained: Authors
Genre: Mystery, Suspense
Rating: 5/5
Bottom Line: Friendship ain't easy


G

rab,

J

ust get it at the library, or

R

emove from your TBR list? Grab
Summary:
For estranged friends Ashley, Natalie, and Lauren, it's time to heal the old wounds between them. Where better to repair those severed ties than on a girls' getaway to the beautiful paradise of Tulum, Mexico? But even after they're reunited, no one is being completely honest about the past or the secrets they're hiding. When Ashley disappears on their girls' night out, Natalie and Lauren have to try to piece together their hazy memories to figure out what could have happened to her, while also reconciling their feelings of guilt over their last moments together. Was Ashley with the man she'd met only days before? Did she pack up and leave? Was she kidnapped? Or worse—could Natalie or Lauren have snapped under the weight of her own lies? As the clock ticks, hour by hour, Natalie and Lauren's search rushes headlong into growing suspicion and dread. Maybe their secrets run deeper and more dangerous than one of them is willing—or too afraid—to admit. ~amazon.com
Review:
We all have those friendships where one person seems to be the glue that holds all of you together right? Well it is the same with Ashley, Natalie and Lauren. Ash is the one that both brings them richer and in some ways separates them. After Ashley and Lauren have a fallout a year ago, Natalie lost contact with Lauren as well. In order to mend their friendships, Ashley invites both on a trip to Tulum saying it'll help them heal. This is where is all goes haywire though.
Each woman has her share of secrets that they've been keeping from each other and in some ways themselves. When you admit something to another person it makes it real for you too; which none of them are truly ready to admit. Add in a handsome stranger who takes all of one of their attentions away and you have storm a brewing. What I loved about this book is that each friend was in the wrong in some way. None of them were better than the other. I also enjoyed how what occurred a year ago was revealed piece by piece by each of the friends. Female friendships are tricky and sometimes you have to evaluate whether or not you need to cut ties with a toxic one.
Ashley is completely self-absorbed and while I felt that at first she really did want to reconnect with Lauren and Natalie; as the time wore on I felt that she didn't. To defend her though, I don't think she knew how to approach the history. No one wants to dredge up the past when it doesn't put you in the best light. She seems to want to move on to be a better mom but she's not willing to change her ways either.
Natalie perhaps had the biggest secret from her friends' but I didn't feel that she should have had to reveal it to Ashley to make her understand why she wanted out of their joint business. If Ashley wanted to keep it so badly, perhaps she needed to find away to buy Natalie out. Natalie was trying to do what she could to save her family and her marriage and that included walking away from the business that she built from the ground up with Ashley. Also, doing business together was truly wreaking havoc on their friendship, which for Natalie was more important.
Lauren was the wild card for me. Yes she had issues with Ashley and perhaps Natalie to a degree but her life since letting them go a year ago has been a bit messy. Making up with Ashley was the least of her issues that she had to work out. I didn't feel that repairing her friendship with Ashley was her top priority, nor should it have been.
Sometimes in life you have to decide to let go of friendships. People come in and out of your life for reason and purpose. Some have expiration dates and some don't but we learn something from each of them about ourselves.
Liz and Lisa have a knack for writing stories you want to read and women you want see yourself or people close to you in. Not only that but they aren't afraid of shying away from some subject matters that can't be easy to write. I have read each of their books and loved each of them for different reasons but
Girls' Night Out
is their best to date.

Google+