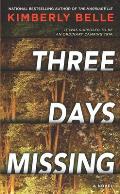 Author: Kimberly Belle
Series: None
Publication Date: August 26, 2018
Publisher: Park Row
Pages: 352
Obtained: author
Genre: Psychological Thriller
Rating: 4.5/5
Bottom Line: A mother's view of when her child goes missing and the frantic search for him


G

rab,

J

ust get it at the library, or

R

emove from your TBR list? Grab
Summary:
It's every parent's worst nightmare: the call that comes in the middle of the night. When Kat Jenkins awakens to the police on her doorstep, her greatest fear is realized. Her nine-year-old son, Ethan, is missing—vanished from the cabin where he'd been on an overnight class trip. Shocked and distraught, Kat rushes to the campground, but she's too late; the authorities have returned from their search empty-handed after losing Ethan's trail in the mountain forest. Another mother from the school, Stef Huntington, seems like she has it all: money, prominence in the community, a popular son and a loving husband. She hardly knows Kat, except for the vicious gossip that swirls around Kat's traumatic past. But as the police investigation unfolds, Ethan's disappearance has earth-shattering consequences for Stef, as her path crosses with Kat. As the two mothers race against the clock, their desperate search for answers reveals how the greatest dangers lie behind the everyday smiles of those they trust the most. ~amazon.com
Review:
What would you do if your son went missing on a school camp out? How would you feel if it turned out that your kid wasn't the target? This is what single mom, Kat is dealing with. Her son, Ethan is a seriously smart kid, probably bordering on genius but he's not so good with social interaction. So when she drops him off to go on an overnight trip, she's apprehensive but she's got to let him do it. When the loud knocking interrupts her sleep she thinks it's her ex-husband but when she opens the door and it's the police, she knows her whole world is about to turn upside down.
Stephanie is devastated when she hears that another boy from her son's class is missing. She's frantic to get in touch with someone from the school to see what is going on but can't get a hold of anyone. It's not quite evident why she's so frantic and involved in this situation. Other than the fact that she's the mayor's wife, she already knows that her son is fine.
As Stephanie and Kat's worlds collide, you realize that they have more in common than you thought before. It takes them by surprise as they didn't really know each other other than because of their boys being in the same class.
Ms. Belle has a knack for writing engaging characters and plot. You feel for Kat and wonder how much Stephanie has turned a blind eye too. As you finish the end of the book, she turns it on its head yet again. So much so that I had to make sure that I read it a few times.
If you haven't read any of her books, then
Three Days Missing
is a great one to start with.

Google+