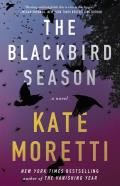 Author: Kate Moretti
Series: None
Publication Date: September 26, 2017
Publisher: Atria
Pages: 352
Obtained: Friend
Genre: Contemporary Fiction,Mystery
Rating: 4.5/5
Bottom Line: Small town life and how rumors + poor decisions = ruined lives


G

rab,

J

ust get it at the library, or

R

emove from your TBR list? Grab
Summary:
Known for novels featuring "great pacing and true surprises" (Kirkus Reviews, starred review) and "nerve-shattering suspense" (Heather Gudenkauf, New York Time bestselling author), New York Times bestselling author Kate Moretti's latest is the story of a scandal-torn Pennsylvania town and the aftermath of a troubled girl gone missing. "Where did they come from? Why did they fall? The question would be asked a thousand times… Until, of course, more important question arose, at which time everyone promptly forgot that a thousand birds fell on the town of Mount Oanoke at all." In a quiet Pennsylvania town, a thousand dead starlings fall onto a high school baseball field, unleashing a horrifying and unexpected chain of events that will rock the close-knit community. Beloved baseball coach and teacher Nate Winters and his wife, Alecia, are well respected throughout town. That is, until one of the many reporters investigating the bizarre bird phenomenon catches Nate embracing a wayward student, Lucia Hamm, in front of a sleazy motel. Lucia soon buoys the scandal by claiming that she and Nate are engaged in an affair, throwing the town into an uproar…and leaving Alecia to wonder if her husband has a second life. And when Lucia suddenly disappears, the police only to have one suspect: Nate. Nate's coworker and sole supporter, Bridget Harris, Lucia's creative writing teacher, is determined to prove his innocence. She has Lucia's class journal, and while some of the entries appear particularly damning to Nate's case, others just don't add up. Bridget knows the key to Nate's exoneration and the truth of Lucia's disappearance lie within the walls of the school and in the pages of that journal. ~amazon.com
Review:
Blackbird Season
is a novel where it's true intent comes out during the final pages of the novel. You are going in one direction the entire novel until you aren't and it all makes sense. It wasn't a ploy but a way of showing the reader how only knowing one part of a story skews our entire view.
I'm not entirely sure if there were many truly likable characters in the novel but they each played their part. While Nate was a solid teacher and coach, he inserted himself into the lives of his students where perhaps he shouldn't have with long-lasting consequences. He was more engaged with the lives of his student than he was with his son and wife. For someone looking in from the outside, it seemed like he was trying to run away from the hard job of raising a son with autism and at times I felt that he wanted to be a teen again. He enjoyed basking in the glory of his baseball players.
Alecia, Nate's wife, is the one who runs their son's life which includes multiple therapy sessions and working with him constantly throughout the day. So when Nate is late or not helping, she gets angry. She used to be social and she used to be fun but now she feels exhausted all the time. Gabe is her life and her focus, as it is for most moms, but should it be? Maybe Nate is feeling resentful because all of her attention is focused on Gabe. One thing I did notice is that even while Nate was under suspicion of having an affair and then of making Lucia go missing, not once did Ms. Moretti have Alecia blame herself. His actions are his responsibility not hers and it was refreshing.
While I want to say that I saw both sides of the coin on the subject matter, I was definitely more Team Alicia than Team Nate. The whole time I felt that Nate didn't understand that while a bold line wasn't crossed, a smaller line was definitely ran over. I never felt that he owned up to his part in this whole entire mess. While I appreciated that Bridget stood by him and really was the only one who believed him; Nate himself didn't do much to help plead his case. He actually looked and acted guilty most of the time.
I enjoyed how Ms. Moretti led you down one trail but then veered off into the woods but it wasn't like it was out of left field either. Once all is revealed you see how she laid the ground work for it.
I highly recommend
Blackbird Season
for those who are fans of mysteries.

Google+