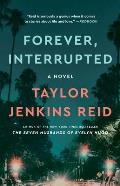 Author: Taylor Jenkins Reid
Series: None
Publication Date: July 9, 2013
Publisher: Washington Square Press
Pages: 352
Obtained: gift from a friend
Genre: Contemporary Fiction, Women's Fiction
Rating: 4.5/5
Bottom Line: Makes you appreciate every day because you never know how a split second can change everything


G

rab,

J

ust get it at the library, or

R

emove from your TBR list? Grab!
Summary:
Elsie Porter is an average twentysomething and yet what happens to her is anything but ordinary. On a rainy New Year's Day, she heads out to pick up a pizza for one. She isn't expecting to see anyone else in the shop, much less the adorable and charming Ben Ross. Their chemistry is instant and electric. Ben cannot even wait twenty-four hours before asking to see her again. Within weeks, the two are head over heels in love. By May, they've eloped. Only nine days later, Ben is out riding his bike when he is hit by a truck and killed on impact. Elsie hears the sirens outside her apartment, but by the time she gets downstairs, he has already been whisked off to the emergency room. At the hospital, she must face Susan, the mother-in-law she has never met—and who doesn't even know Elsie exists. Interweaving Elsie and Ben's charmed romance with Elsie and Susan's healing process, Forever, Interrupted will remind you that there's more than one way to find a happy ending. ~amazon.com
Review:
It's a rare book that can make you cry and laugh at the same time.
Forever Interrupted
starts off with a sweet moment between newlyweds ends up in tragedy as one of them dies in an accident. What is left is a story about pain and healing. It is about how we are resilient and how just because someone dies doesn't mean they leave our hearts.
Elsie is endearing and you want to take her in when she deals with the loss of her husband. Luckily, she's got a supportive friend in Ana. Trust me, Ana must love Elsie to deal with moving Elsie through the stages of grief. What isn't easy is getting everyone to understand that while her and Ben have only known and loved each other for 6 months, it doesn't make it hurt any less because their time was short. In fact, it might hurt more because they had such limited amount of time together.
What I liked seeing is how Ms. Reid moved Elsie through the stages of grief and finds her an unlikely "coach" through this time. Family isn't always blood relation but family can be those you surround yourself with throughout your life.
Ms. Reid writes with a lot of heart and I can't wait to read her other 2 books that are sitting on my shelf.

Google+